Remembering Her
I

needed to go home. I had been at the hospital for two days straight with little, if any, sleep. I needed to go home and be with my kids and my husband. I needed to sleep. Besides, my brothers had flown in earlier that day and were sitting with her now. I felt guilty about leaving, but I knew she was in good hands. I kissed her cheek, told her I loved her and would see her first thing in the morning. I don't know if she understood.

I had not been home that long when the phone rang. It was my brother. "She's having a hard time breathing. They've called in a respiratory therapist to give her oxygen. You may want to come back." "No, they have been doing that all day. She settles down after the oxygen therapy. She'll be OK." But there was something in my brother's voice that scared me. "I think you should come back."

As my husband and I drove back to the hospital, I think the same thought was going through both our minds. This couldn't be it. She has gone through so much and has always found her way back. We knew it would come one day, she was so frail and worn out. But that one day was somewhere in the future, not now.

She was different than when I left her. Her breathing was very labored. She had an oxygen mask on and her eyes were wild. They were open wide and darting quickly back in forth. She looked very scared. The nurse told us this was normal at this stage. "This stage? What stage?" But I knew what she was talking about. She said some people who have had near death experiences tell how they could see people at a distance coming toward them. It was scary because they couldn't see who the people were, but that they were coming for them.

I couldn't stand this, I didn't want her to be scared. I asked if they could give her something to calm her down, let her sleep. The nurse said in her condition anything they could give her now would slow her heart and breathing down too and they weren't allowed to do that. I had medical power of attorney. The nurse said I could call her doctor and make that decision for her. That's not a decision I wanted to have to make. But she and I had talked about this moment. I knew what she wanted. I called the doctor. He said he was expecting my call. After the nurse gave her the medicine she calmed down and drifted to sleep. I felt sick.

Her breathing didn't slow down right away like I was afraid it would do. She was just sleeping. Peaceful and still for the first time since Monday. I actually had a feeling of relief. A sick relief. She wasn't scared anymore.

The nurse turned down the lights and left the room. We all sat around her bed, my two brothers, my husband and myself, holding her hands. I don't know how long we sat like this. This nurse came in from time to time to check her vitals; some times she said nothing, sometimes she would tell us where she was "at this stage." I don't think I heard much of it. The last time the nurse came in she told us to get closer to her, to talk to her. She said her breathing had slowed down quite a bit now and would continue to do so. She said we would start to see her breath come slower and slower. It wouldn't take long and then it would stop. We all got as close to her as we could. We told her the things we needed to say. I told her to give me a sign from the other side. We had talked about that. We told each other if anyone could do that, it would be us. We made a pact that the first one to make it to the other side would send a sign back to the other. I told her not to forget this. We all fell into silence then, staring at her, waiting for her next breath. They came slower and slower as the nurse said they would. We all held our own breath waiting for her to take her next. Time and space shrank to this tiny woman and her breathing. I was waiting for her next breath when someone, I don't remember, my husband or my brother, said, "She's gone." I shook my head. No she can't be gone. She hasn't taken her last breath yet. I kept waiting as they all broke down around me. I just shook my head and waited. It didn't come. She was gone.

I don't know how long we stayed in her room after that. We cried and hugged each other. Eventually we all sat silent, worn out from our grief, just staring at her, silent and still. I don't think anyone wanted to leave. That made it too real.

When we got home at 2:00 am, my husband made chocolate chip cookies. It's not that we were hungry. He just needed to do something. She loved chocolate chip cookies.

We love you Mom. We miss you.


Happy Valentines Day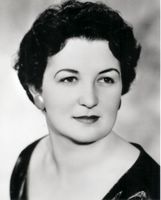 Norma Diedrichs

March 9, 1936 ~ February 13, 2003